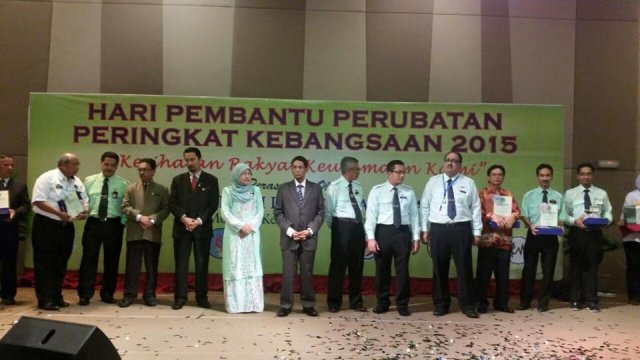 PETIKAN DARI THE STAR 11 MAC 2015 SEMPENA HARI PEMBANTU PERUBATAN 2015 DI HOTEL EVERLY PUTRAJAYA
Ministry: More medical assistants soon
PUTRAJAYA: The Health Ministry wants to increase the number of medical assistants in the country because there is a nationwide shortage.
Health Minister Datuk Seri Dr S. Subramaniam said medical assistants were especially crucial in rural areas where there were not enough doctors.
"Residents, especially in Sabah and Sarawak, are extremely dependent on them.
"Our problem is that we do not have enough space at our training centres to generate larger numbers," he said after officiating the Nationwide Medical Assistant Day celebrations here yesterday.
Dr Subramaniam said there were now six government training institutes which catered to between 700 to 800 medical assistants.
"This is not enough as there are many medical assistant posts which have yet to be filled.
"We also hope to create more such posts but we need more training opportunities," he said, adding that the current aim was to produce about 1,000 medical assistants a year.
He said that at present there were only 11,469 medical assistants in the country.
On a related matter, Dr Subramaniam said the ministry was looking at widening the scope for pre-hospital services.
"For example, in an accident, pre-hospital care is provided to the patient from the accident scene to the hospital and this period is crucial.
"We are looking at how we can create a specialised unit for pre-hospital care soon," he said, adding that it was one of the plans under the 11th Malaysia Plan.
On the increase in tuberculosis (TB) cases in the country, Dr Subramaniam said the ministry was focusing on remedial action to stop the spread of the disease.
"Our aim is to detect TB patients as soon as possible and treat them before they infect others," Dr Subramaniam said.
Dr Subramaniam said besides awareness programmes, the ministry would provide more equipment to medical centres to help identify TB cases.
He said that now there were about 20,000 TB cases nationwide.